Welcome
Percunivers.com it's 69 free drums lessons, music sheets, pedagogic contains, drums shows, jazz, music computer. You can help percunivers.com to grow by buying some drums sheets or by giving a donation.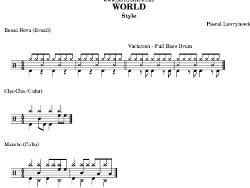 WORLD RHYTHMS

... the drumset can play any style of music. All around the world we found various percussion instruments. The drumset can imitate the sound of these instruments, the drummer can play traditional rhythms. In this lesson I give you easy versions of well known rhythms from Cuba, Brazil and West Indies. ...

LA BOUTIQUE

... Małe Kroki 1 to 4, four new ensembles for beginners...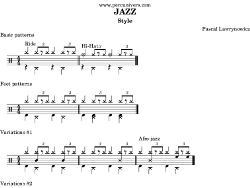 JAZZ AND THE BIRTH OF THE DRUMSET

... jazz is born in the begining of the XIXth century; the drumset also. From the early years till today many different jazz styles give different drumming. The most representative form is the one played with the ride cymbal end the hi-hat foot ...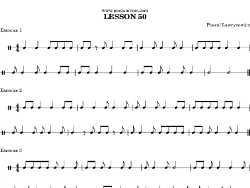 SYNCOPATION ON 2 BEATS

... syncopation on 2 beats: the quater note is played on the weak part of the beat (back-beat) and ends on the strong part of the next beat ...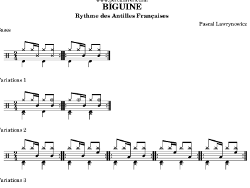 THE BIGUINE, A RHYTHM FROM THE FRENCH INDIES

... the Biguine is a dance and a rhythm born in the french indies in the middle of the XIXth century. The basic pattern is based on 16th notes with 3 of them accentuated this way: 1 2 3 1 2 3 1 2 ...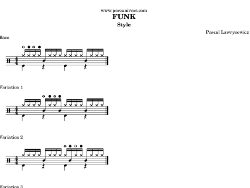 EASY PATTERNS FOR THE FUNK

... funk music is a good way to learn 16th note groove played on the hi-hat using RLRL sticking (single stroke roll). The right hand plays the sanre drum on two and four; the left hand plays, on the snare drum, the second and/or fourth 16th of the beat ...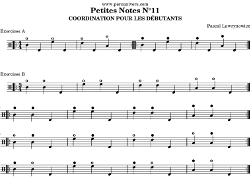 COORDINATION FOR THE BEGINNERS

... coordination means you play each limb, harms and legs, consecutively and not simultaneously as in the independance. So you have to control the high part and the low part of your body to get a smooth and regular motion between them ; you have to work on the balance of the sounds from the high (snare drum and tom-toms) and the low (bass drum) ...